8 Tips for Solo Cooking
When living alone, cooking is not always super fun. Motivation is sometimes lacking, as well as inspiration. Moreover, it is a proven fact that the food distribution mode is often less favourable for people living alone than for families. Affordable prices are often applied to large foodstuff amounts, and food waste may quickly occur if we don't figure out our real needs as a living alone person.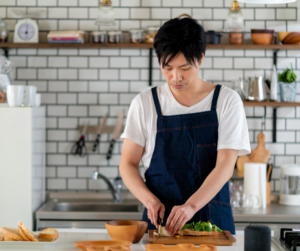 Here are 8 tips to help you better plan your solo meals.
1 – Plan your Meals
Planning your meals ahead of time is an excellent way to make sure you have all the ingredients needed to prepare a meal and to ensure you are eating healthily. Advance planning allows you to review the type of food you already have on hand, while giving you the opportunity to anticipate by buying food that can be stored without losing their nutritional value. This allows you to save money on foodstuff costs and reduce the last-minute stress for when you decide the type of meal to prepare. When it comes to meal planning, consistency is key; try to set specific days where you plan your meals for the following week, and try to stick with it throughout the week to avoid getting overwhelmed. Meal preparation does not have to be difficult, a little planning can be very useful!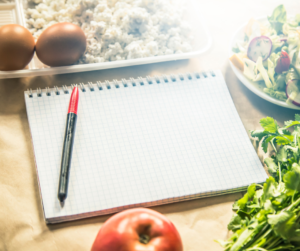 2 – Cut Down … or Double the Recipe!
Most of the recipes proposed in cookbooks or on websites are for 4 or 6 people, on average. But you don't have to follow the number of guests! You can divide a recipe that attracts you by 2 or 3 to customize it to your reality.
You can also multiply a recipe, and then portion it in freezer dishes to save servings for later. This can be a very economical trick if you are sometimes tempted to buy ready-made dishes in-store.
Serving calculation techniques are valuable when you are solo cooking. Knowing the amount of food that you need for one person helps you avoiding waste and consuming the right amount of nutrients in your meals.
3 – Join a Collective Kitchen
If you are worried about making mistakes in doubling, or even tripling a recipe, why wouldn't you join a collective kitchen? Collective kitchens are typically proposed within community organizations, or in neighbourhood associations. At fixed times, a small group, generally facilitated by a collective kitchen animator, meets to prepare a previously determined menu. You can prepare meals for the week with others. It is an excellent opportunity to save money, as well as socializing. You will go back home with meal servings that fit your needs and that you will have prepared within a group.
If you don't want to join an existing collective kitchen, you could also invite friends to cook with you at certain times of the year. This is an ideal way to reconnect with your social circle and break the isolation.
4 – Invest in Freezer Dishes
To avoid food waste, it is crucial to invest in freezer dishes. One-serving freezer dishes are an excellent way to save time and have ready-made good food at hand without having to cook every day. These containers can be used to store soups, stews, sauces or even sandwiches! This is an excellent way to make sure that you always have something healthy and flavourful that is ready for when you are too busy or don't feel like cooking.
5 – Get a Basic Cooking Kit
Set up a basic kitchen with essential ingredients that will always be handy. This will help you to prepare meals quickly and easily, without having to go to the grocery store each time sometimes is missing for you dish. Think about the ingredients you often use, such as oil, onions, some spices you like, flour, sugar, etc. A basic cooking kit also allows you to quickly and easily prepare improvised dishes if required!
6 – Incorporate Herbs and Spices
Herbs and spices are an excellent way to add taste to dishes without having to buy new ingredients. These can help you to diversify flavours, even if your meals are made from the same ingredients. You can buy herbs and spices in small quantities, or even in bulk. Most of herbs and spices are affordable and cheap, so you don't have to ruin yourself to enjoy delicious and healthy meals! Try to find new recipes online or look for local cookbooks to get inspired.
7 – Don't Wait to Be with many People to Put on a Great Spread!
When you took the time to cook a good meal, savour it as it deserves, and be proud for the time you took to prepare your own food. Take the time to enjoy the foods nourishing you, and feel proud about having cooked something delicious by yourself! Place your dish on a real table and take the time to appreciate the fruit of your labour. When living alone, we may have a tendency to eat quite anywhere. You deserve to take a real break for your meal. Don't forget to enjoy each meal as if it was a special occasion. Cooking alone is a rewarding experience reminding us our autonomy and self-sufficiency.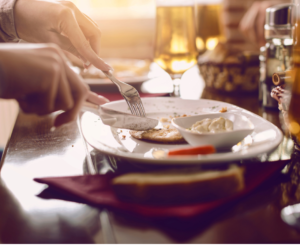 8 – Get Creative
Cooking alone does not have to be complicated. You can easily cook a delicious and healthy meal with only a few ingredients, so try to keep things simple. If you don't feel like cooking something complex, try easy-to-prepare dishes that do not require plenty of time or efforts. That way, you will be able to enjoy a quick but satisfying meal without having to spend hours in the kitchen!
Be creative and try new ingredients or create your own recipes using the foods you have on hand. This is a great opportunity to explore new tastes and textures, and to discover the chef in you! Solo cooking does not have to be boring.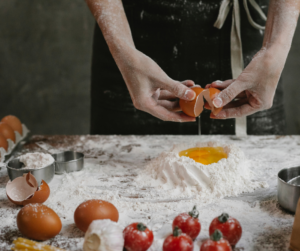 If you want to save money and time in the kitchen, it is helpful to be organized and strategic in the way you cook. Find recipes that fit your tastes and food needs, then buy the ingredients in bulk and prepare the meals or cook large quantities to have leftovers for later. When it's time to cook, prepare the ingredients and tools you need in advance, then carefully follow the instructions to avoid making mistakes. Don't be afraid to try new flavours and techniques – you might discover your new favourite dish!
Other tips you might be interested by!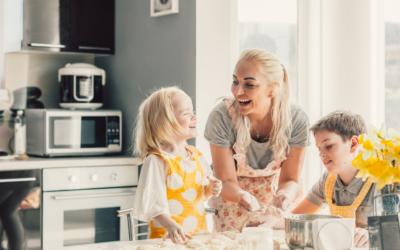 How to Cook with your Children Involving your children in the kitchen not only allows you to teach them practical skills such as cooking and food preparation, it also contributes to reduce food waste. Cooking with your children is an opportunity to share...
Address
50, 1st street West, Sainte-Anne-des-Monts
Quebec G4V 2G5