Food storage tips and tricks to avoid waste
Food waste sometimes happens through poor food management. The storage and preservation method is different depending on the nature of the food. Here you will discover the best practices for keeping fresh and prepared foods whether in the fridge or in the freezer.
Refrigeration:
When you return from the grocery store, food should be refrigerated as soon as possible. Each food has a distinct storage method and time. To help you find your way around, we have prepared a summary table of the conservation methods for each food.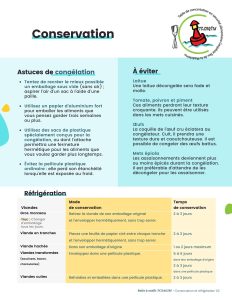 Freezing tips
Try to recreate as best as possible a vacuum packaging (without air); for example, suck the air out of a bag using a straw.
Use strong aluminum foil to wrap foods that you plan to keep for three weeks or more.
Use plastic bags specially designed for freezing, or whose fastener will allow an airtight seal for foods that you want to keep longer.
Avoid regular plastic wrap: it loses its seal when exposed to cold.
Foods that don't keep well when frozen:
Lettuce: Thawed lettuce will be bland and soft.
Tomato, bell pepper and chilli: food will lose its crunchy texture. They can be used in cooked meals.
Eggs : The raw egg shell will burst in the freezer. Cooked, it will take on a hard, rubbery texture. You can freeze beaten eggs.
Spicy foods: seasonings become more or less spicy during freezing. It is better to wait until they are defrosted before seasoning them.
Freezing fruits and vegetables in detail: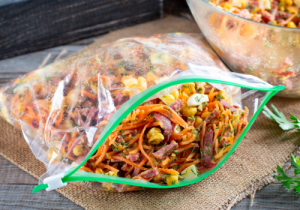 In season, fruits and vegetables can be in abundance. Whether it's during summer harvests or when the purchase price is really advantageous, freezing is a good way to preserve fruits and vegetables that you have in large quantities. However, in order for food to retain its flavor and nutritional content, it must be prepared according to certain standards. We have prepared two tables showing the preparation methods for a large number of fruits and vegetables.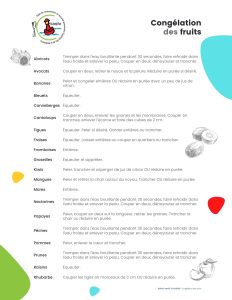 No Results Found
The page you requested could not be found. Try refining your search, or use the navigation above to locate the post.
Address
50, 1st street West, Sainte-Anne-des-Monts
Quebec G4V 2G5