Zero-Waste Freezer Management
Freezer organization:
Group food according to their nature: vegetables in one compartment, meat in another, prepared dishes in another, etc.

Ensure the frozen food turnover: first in, first out.

Draw up the freezer inventory and keep it up to date.
| | |
| --- | --- |
| Type of food | Storage life in the freezer |
| Fruits and vegetables | 6 to 12 months |
| Meats | 6 to 8 months |
| Fish and shellfish | 3 to 4 months |
| Bakery products and pastries | 1 to 2 months |
Cleaning of the freezer
Defrost the freezer as soon as the layer of frost reaches 2 mm to avoid overconsumption of energy.

Preferably clean the freezer during winter to take advantage of low temperatures.

Place frozen food in a cooler or insulated bag, or outside during the cold season.
Freezing at home
Freeze berries, certain vegetables such as tomatoes, and herbs individually on a plate. Transfer into a freezer bag afterwards.

Blanch the vegetables before freezing. Make sure they are well drained before transferring them into a freezer bag.

Use packaging suitable for the food to be frozen:

Flexible packaging, like reinforced aluminum foil

Glass canning jars (remember to leave an empty space for food increase in volume during freezing. Warning: Glass containers are easily breakable at freezing temperature)

Ice-cube trays

Plastic containers

Write the contents and date on each container using labels or adhesive tape (such as painter's tape) and a permanent felt-tip pen.

Cut the pieces of meat and freeze pieces separately in an airtight plastic container or in vacuum packaging.

Portion out in single servings or for a single family meal. Small packages are easier to freeze than large ones.
Back from the grocery store
Quickly store frozen products purchased at the grocery store in the freezer to prevent from thawing. When possible, choose vacuum-packaged frozen foods – it improves the preservation.
Some freezer-friendly foods
Whole tomatoes




Plunge the whole tomatoes into boiling water for a few minutes, then plunge into icy water to remove the skin and the core. Freeze into containers or plastic bags.

Eggs




For whole eggs, break the shell, mix the yolk and the white and so that the yolk does not become viscous, add ½ tsp. sugar or ½ tbsp. salt per cup of egg. Egg yolk may be frozen separately by adding sugar or salt, like for the whole egg. The egg white does not need any added sugar or salt and does not need to be mixed.

Parmesan rinds




Freeze cheese rinds and add to minestrone or other soup.

Yogurt




Portion in the amount needed for future smoothies, muffins, cake or frozen yogurt.

Grapes




Grapes will quickly get a second life if promptly frozen. They make a refreshing snack or ice cubes that won't melt in your cold drinks.
Other tips you might be interested by!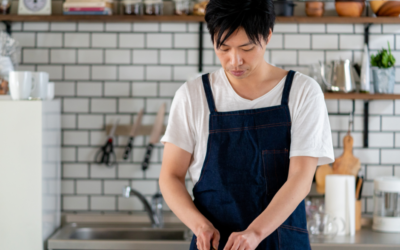 8 Tips for Solo Cooking When living alone, cooking is not always super fun. Motivation is sometimes lacking, as well as inspiration. Moreover, it is a proven fact that the food distribution mode is often less favourable for people living alone than for families....
Address
50, 1st street West, Sainte-Anne-des-Monts
Quebec G4V 2G5